GYMSHARK Influencer & Body Sculpting Event at SkyGarden London
---
Last week Thursday saw myself and a bevy of other "Fitfluencers" invited to the anticipated launch of British fitness apparel company GymShark's new AW17 collection at SkyGarden London.
GymShark, the sportswear and accessories brand, manufacturer and online retailer was founded by Ben Francis in 2012 and currently has over 3 million engaged social media followers worldwide, making them one of the fastest growing lucrative fitness brands of the millennial generation.
#IfYouDontKnowNowYouKnow…
The event itself commenced bright and early at 7:20am (:() so we influencers could be promptly fitted in a GymShark set of our choice. I selected their aptly named high waisted "Dreamy Leggings" in indigo (available in 4 colour ways) which were said to be perfect for high intensity and resistance and training. Along with the "Dreamy leggings" I also chose their beautiful soon-to-be released wrap around sports bra also in indigo – both of which looked so stunning against my skin tone.


Once we were dressed and prepped, we were then treated to a surprisingly intense but fun Body Sculpting class which lasted for about 40 minutes and conducted by personal trainers Ciara Madden and Hana which was then followed by a complimentary breakfast.
During the HIIT Body Sculpting class I was so relieved that the "Dreamy leggings" didn't become opaque when squatting – a big tell tell sign of whether a legging is durable!
Can I have an AMEN for thick and high quality, modesty reserving leggings lol!
Thankfully, I also didn't experience any discomfort from them either, so no yanking at or adjusting due to sagging occurred – a common drawback when wearing high waisted leggings. Most importantly they felt just like a second skin, really comfortable and supportive. It didn't feel like I was wearing figure hugging apparel at all.
After we cooled down, we were then gifted with some great products from new supplement company FreeSoul (which I featured in the Campaign for) who specifically designed their products for women, some Protein World supplements,  a glitter gem Tangle Teezer, ProWorks resistance bands, a few protein bars and some more beauty products to keep us looking fit and fabulous whilst breaking a sweat.
Thank you to the GymShark team for all the goodies and the experience to try out your new collection!
I'm officially a #GymSharkBabe! <3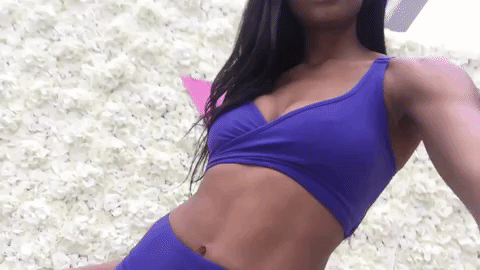 Watch the video BELOW of my experience at the GymShark launch at SkyGarden, London: